Unlike other health records software, Sammy EHR Software updates patient records on the fly. Practitioners can even repeat notes with a click. A patient portal allows doctors and patients to communicate and stay in touch. It includes a secure place for patients to view lab results, fill out forms, and message doctors. Online prescriptions are also available to patients. All of this can be done through a secure patient portal. The platform can also help doctors manage their practice's billing.
In addition to patient information, Sammy EHR software allows providers to import images and pictures and reconcile past diagnoses. It can also track data entry and modification, and even fax documents to anyone who needs them. In addition, it has a voice-recognition program that converts spoken words into direct notes, which reduces mistakes and improves work efficiency. If you're looking for a comprehensive, affordable EHR system, consider Sammy.
Some Features of Sammy EHR Software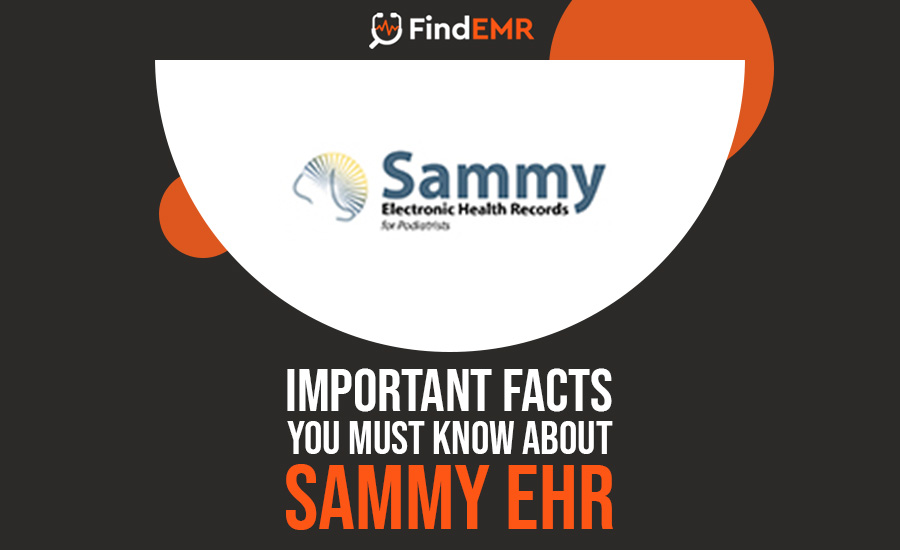 e-Prescription 
One of the most important features of Sammy EHR Software is the e-prescription function. This feature allows users to send prescriptions to patients via email or mobile device. This allows them to get refills at their preferred pharmacy, and the system even warns them of possible drug interactions. Using this feature can make your job easier and save you time. But what about the other features? Below are just a few of the advantages of Sammy EHR.
User-Friendly 
First of all, Sammy EHR is user-friendly. It allows you to import, export, and organize data in various formats. It also helps you to check if your patient is eligible for insurance. This feature will help you prevent payment fraud or denials and make your work faster and easier. Lastly, Sammy EHR has a patient portal that allows you to view all the relevant health information of any patient.
Time Saving
The software allows you to send virtual prescriptions to patients, letting them pick up their medications. It also allows you to approve these prescriptions remotely, saving you time by avoiding the tedious process of sending patient medical information. The e-prescription feature also allows you to attach images and reports to a patient's chart. In addition, you can fax these images to any other party.
Patient Portal 
The Sammy EMR offers a patient portal. Through this portal, patients can view their medical history and schedule appointments. This will decrease no-shows and increase patient engagement statistics. With the patient portal, you can even send out reminders for appointments and track their responses. These features are included in the price of the EMR software. This feature allows doctors to be more productive. If you're wondering how the software can improve your business, you can schedule a demo today.
Sammy EHR Software offers dynamic patient portals that enable patients to communicate with healthcare providers. With this, they can access their medical records and share important information with their families. The software also has a patient portal for patients to communicate with their doctors. This feature helps doctors and patients stay connected and informed. Besides, it helps patients read lab results, message their doctors, and fill appointment requests. It also has an e-prescription option, which makes it even easier for the doctor and patient to obtain prescriptions.
Unique Dashboard
The Sammy EHR Dashboard is a great way to track your practice's workflow. You can view all the tasks in your practice by simply clicking on the different buttons on the dashboard. The Sammy EHR has a very user-friendly dashboard that lets you see all the activities and information happening within your practice. During your demo, you can customize it according to your needs. It also provides you with the option to change the font and color scheme of the dashboard.
Sammy EHR Pricing
What is the pricing plan of Sammy EHR Software? 
The pricing plan of Sammy EHR varies from clinic to clinic. It starts at $349 for one user and increases to $499 for as many users as a clinic need. It is easy to find a solution that suits your business needs and budget. It has positive reviews from customers, and an average rating of 4.4/5. To get a demo, contact a vendor.
With a subscription to the service, you'll get the latest updates and upgrades. You'll save money every month with a Sammy EHR software trial, and can even test the software for free to make sure it meets your needs. It's all up to you! So, what are you waiting for? Take the first step toward implementing this technology today!
Despite the fact that Sammy EHR is quite expensive, the software's unique features are worth the investment. The user reviews on the product highlight its great user satisfaction. The system will help you manage the daily administrative and clinical tasks of a clinic. It will help you improve patient care and increase your bottom line. You'll be able to use this program in your clinic and see how effective it is.
Sammy EHR's comprehensive features make it an excellent choice for a small or mid-sized practice. It has many other benefits as well, including enhanced patient engagement. With this software, you'll be able to focus on your patients and your work. You'll also be able to save time. The cost of the software is also competitive, so you'll want to compare it with other similar software before you choose it.
Final Words
If you're looking for an affordable and reliable EHR, try Sammy EMR. Its patient portal lets patients access their own medical information, view appointments, and get clinic reports. This makes the patient experience as seamless as possible. The software has numerous additional features that can help improve your practice's financial health. If you're looking for an EHR that's easy to use, read on. You'll find it's worth every penny.