Startup: Salonist
Founders: Neeraj Gupta
Year it was founded: 2017
Where it is located: Singapore
Sector: Beauty & Wellness Industry Software
Website url : https://salonist.io
How did your journey start as a founder? What was that thing that triggered you to start your own thing?
In 2015, the founder of Salonist, Mr. Neeraj Gupta has visited Singapore to meet one of his friends. He is a Salon business owner in Paragon mall. At that particular time, while discussing his business, I came to know about the issues his Salon was facing.  Staff management, Appointment management, inventory management, multi0branch management was one of those. However, all of these were impacting his Salon's bottom line. It triggered me and I decided to visit the other Salon and know their pain points. Since my background is in IT services, I know how much it will be beneficial to integrate Software related to Salon operations.  Thereafter, I discussed these issues with my team and decided to create a tool that can streamline the Salon's administrative tasks.
Did you work anywhere in the company or institution before starting your own thing? How was the experience of working there?
No! As my interest was in working on those services that are customer-centric. Therefore, I started my own venture and developed Salonist to help Salon owners.
So without wasting much time, let us know about your dream and how you are making it a reality as a start-up?
As a business owner, my only dream is to help Salon owners worldwide through Salonist so that they can manage their staff, customers, appointments, and other business activities easily on smartphones, desktops, or other handheld devices.
How did you realize that you should start this thing? Was there a specific pain point you recognized?
As I have mentioned above, my friend's business was going through many ups and downs, so, to manage it all, i started this thing.
Did you start it on your own or there are other co-founders working with you?
No, I started it on my own!
How, do you think, your start up is making the world a better place to live?
Salonist is making life in the beauty and wellness industry easy. The tool lets them manage the tasks from a user-friendly and intuitive dashboard.  It is a cloud-based software with which Salon owners can secure customers' data efficiently.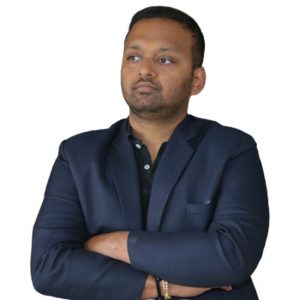 What is your vision regarding your start up? What is the end game here?
Its sole vision is to make Salonist accessible globally. Truly, I never thought about the end game. If it is about improving user experience, then, I keep on including the features that benefit a number of Salon owners and keep their success game up.
Have you been funded?
No! We are boot-strapped.
What is the best marketing and customer acquisition strategy according to you?
According to me,  when it is about customer acquisition and marketing strategy, you need to think according to customers' perspectives. And, implementing the strategies that instill customers' interest. The best marketing strategies are; social media, email marketing, and offering deals, or discounts to customers constantly.
One piece of advice you would like to share with aspiring entrepreneurs.
Prioritize your customers, understand their pain points, and solve them.
What is leadership according to you?
Leadership is nothing but the quality to assist the team to perform better and give their best.
How much percentage of the targeted user have you been able to achieve?
On all, 75% is an approximate amount of users Salonist is able to achieve,
What is your next strategy to attract more traction?
Future is demanding to add the features according to customer's requirements.
Will you be broadening your target audience or the customer segments any time soon?
Yes, of course!
How will you put your startup journey into a metaphor?
In 2015, we made up our mind to build Salonist keeping the Salon business's pain points in mind. After knowing all the aspects related, such as the issues most of the Salons are facing (booking, multi-location management, staff commission, etc.). In mid-2015, we started working on it. It took us almost one and half years to create the Software. In 2017, we launched it.  It aims to streamline the chaos the Salon owners face with the highly functional features and support them in the best possible way. The year 2020 becomes highly beneficial for us.  COVID-19 lets us grow revenue and increase our customer base. Since its establishment, we have proved to be a highly likable brand.
What were the high and the low points of this journey?
For any business, high and low points are mandatory. When it is about high points of our journey, we experienced it when we launched the Salonist Software in the market and got an overwhelming experience. Since all of the integrated features are customer-based, hence, it is liked by all or most of the salon business.
Low points occur when we don't get an idea on how to improve the reach and make Salonist more visible to Salon owners globally.
Do you think there is an employment crisis in the country?
Yes, our country faces an employment crisis.
What can be done to remove these skill and employment gaps?
First and foremost is to understand the skills and technologies in demand, and open the start-ups and vacancies. There is a dire need to give people the piece of cake they like to get productive results.
How entrepreneurship can benefit the employment situation in India?
Entrepreneurship boosts employment in many ways.  Generating employment opportunities is the obvious one. Hiring people, giving them the required income, and letting the serve their best to the company fuels the company's growth.
Do you need to be the special one to launch your start-up?
Someone does not need to be a special one to launch the product that helps the users in the best possible way. I have understood the requirements of Salons and have built the solution that helps the Salons to operate their business efficiently.
When should one go for funding and capital investors?
Funding should be done when the businesses like to expand, include more services and when more resources are required for marketing.
Is innovation and creativity essential for a start up?
Indeed! These are important factors for a successful business.
What is innovation and creativity for you?
These factors define how our product is unique, better than others, how it is user-centric, unparalleled, and helps in business growth.
What qualities and skills do you look for when you hire someone?
When an organization hires; they need to look if the candidate:
have experienced enough in the required field
can think out of the box
helps in generating new ideas for business growth
lead-generation capability
Cooperation/Teamwork
Goal-oriented
Should there be organizational politics in a start-up?
Of course, not!
Can entrepreneurship be THE solution to eliminate organizational politics?
No idea!
What is the best management strategy to increase employee effectiveness and satisfaction?
Recognizing or appreciating them from time to time, giving incentives for flawless work, a positive working environment, finding issues if facing, etc.
How do you maintain a culture of innovation in the organisation?
It is important to provide information, technologies, and software that assure a culture of innovation. Knowing if failing is a part of everyday tasks and employee empowerment gives innovation culture new wings.
Do you think mental well-being and stress management should be a focus of the organization?
Yes, it is important!
What does it take to be an entrepreneur?
It takes a lot of research, courage, effort, time, investment, trendy techniques, and technologies.
How much do you think networking is important to be a successful entrepreneur?
Very much important! With networking, you can improve your brand's visibility, and many will get to know about your services, and hence, you can easily approach the target customers.
Does the start-up ecosystem have a bright future in India?
As of now, it does!
What changes need to be done in elementary education to foster entrepreneurship tendency?
Elementary education should include extra curriculums activities related to entrepreneurship, organize events, by eminent entrepreneurs, and arrange webinars.
What is the next big thing in the start-up ecosystem?
Due to the covid situation, the global start-up ecosystem has been nothing short of flourishing. Innovations in the Documentation And Procedures because there might be more creative solutions coming up.