The bedroom is an essential part of any house so does its interior design. Many a time people ask if hanging photo frames is the only way to decorate the walls of the bedroom? The answer is a straight no, there are various ideas and tips to design your bedroom walls besides photo frames. In this blog, we will discuss the various budget-friendly ideas to decorate your bedroom walls so, that you can add an extra pinch of interior design to your bedroom.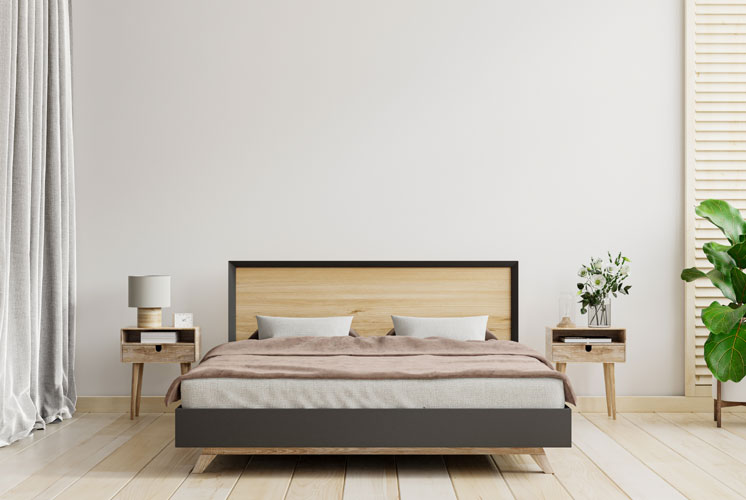 Showcase your collections
In apartments with a limited carpet area, you can use space above the bed in the bedroom to showcase your collections; it can include your trophies from your school days, your favourite photo frames, mementoes from your trips or anything that you want to keep as a collection. You should make a suitable shelve above your bed to showcase these things, you can find various shelf designs easily on google. But, make sure the shelf design goes with the overall colour scheme of the bedroom. A pro tip is to manage your collections properly, otherwise, hoarding of collections will look horrible and will affect the design of the whole room.
Use Bold Colours
Bedroom interior designers says, it is not necessary that you should add things to your bedroom wall to make it look more appealing, you can also use bold colours to give your room a new style statement. Use bold colour on the wall behind the bed and on the other three walls use, light colours to create a contrast. A pro tip is that you should consider using bold yet soothing colours i.e., shades of blue, green or neutrals, don't use dark colours like red as they don't enhance the interior of the bedroom.
Try art pieces
you can use art pieces to decorate your wall behind the bed. Art pieces are conventional yet always go with the design, this is the design which never goes out of style. Use art pieces from one series to create a gallery look, it will attract your focus from wherever you are in the room. Use 5-8 art pieces according to the size of your wall, don't use too many art pieces as our main objective is to decorate the bedroom and not to make an art gallery. You can opt for abstract designs, lines, arts related to nature or any other contemporary design.
Use wallpapers
Wallpapers are also a good idea to design your bedroom walls. Wallpapers are economical, easy to install and never go out of style, budget interior designers in Hyderabad advise using wallpapers in bedroom. Wallpapers come in different patterns; you can select one according to your theme pattern. We suggest that you should choose patterns related to nature, and use your wall to depict a story itself as your bedroom wall is one of the focal points of your home so, use it wisely. The mantra to master wallpaper work is, to keep the design of wallpaper simple yet elegant and do bold experiments with your furniture, by this way you can master the art of interior designing.