Investing in the right property in the right location can maximise your returns. If you are unsure about where to invest in Delhi in 2023, this blog will outline some of the best commercial projects in Delhi.
Where should I invest in Delhi? This is a big question if you have investment plans for the city. Whether looking for a new home or planning a commercial real estate investment in Delhi and its surrounding areas, there are some of the best commercial projects in Delhi. Let's take a look at the top emerging commercial projects in Delhi.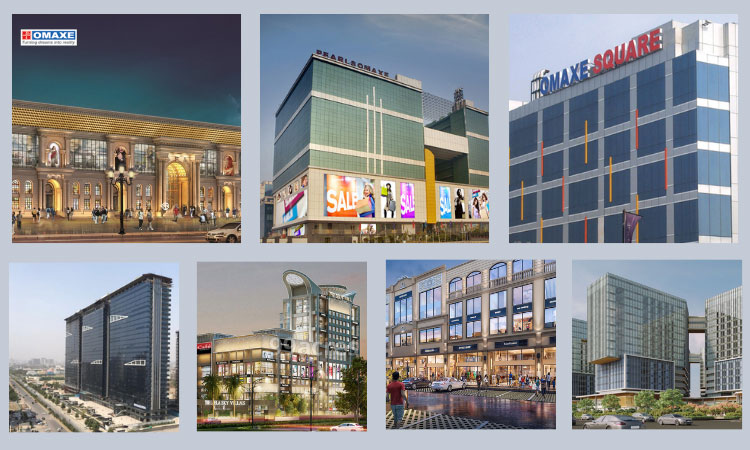 1. Omaxe Chowk
Chandni Chowk, located in the heart of Delhi, has always been a unique shopping and dining destination. The Omaxe Chowk project is the most recent major redevelopment project in Chandni Chowk's 300-year history.
Omaxe Chowk retains the essence of the location while catering to the needs of a buyer and an investor. Despite being the center of attraction for most people and visitors, Chandni Chowk still lacks proper traffic management, amenities, and parking facilities. The ambitious project has created a structured architecture with influences from Mughal, British, and Indian designs while keeping the local culture in mind.
It consists of well-organized showrooms, shops, and corridors. This will increase the number of visitors to Chandni Chowk by 30% each year. The complex has a dedicated food corner with a focus on local delicacies. Omaxe Chowk is a prominent commercial property in Delhi Ncr.
It offers a good opportunity for the business to grow and prosper due to its unique features, such as:
Elevators and lifts of distinction
ATMs, banks, or lockers.
Restricted loading and unloading by the complex's retailers
Parking on Multiple Levels
A food court with a seating capacity of over 1600 people.
The largest wholesale and retailing hub in Asia
Separate taxi lane for pick-up and drop-off services
Large Air-Conditioned Lounge
2. Pearls Omaxe
The Delhi-NCR is expanding its commercial aspects by establishing more office spaces. Many businesses want to stay in these regions because they are being exposed to more leads and business opportunities elsewhere. Pearls Omaxe is an excellent choice if you want to invest in some of the renowned commercial projects in Delhi. The project is loaded with features that ensure work efficiency. Because of the unique design of the space, a proper work culture is produced.
Read More: Lexicon Management Institute of Leadership and Excellence and Wolters Kluwer host a 'Leadership Conclave- Building Day Zero Professionals'
Power backup, a commercial complex in a premium location, office space, security, parking, lavish offices, and retail shops are some of the basic amenities.
3. Omaxe Square
Omaxe Square, located in Jasola, South Delhi, is an ideal project for all types of retailers, businessmen, and investors. The complex is a 5-story structure that stands out due to its proximity to South Delhi and Faridabad. It is appropriate for establishing office spaces for MNCs and major brands. It offers 24-hour security and power backup due to its prime location. Omaxe Square is located near Connaught Place and Nehru Place.
4. Bhutani Alphathum Sector 90 Noida
Bhutani Grandthum is a well-known landmark commercial development in Greater Noida West. Exceptional office space, entertainment, and retail are all combined in this one-of-a-kind commercial project. The project's location and connectivity are major draws. The project will undoubtedly draw a lot of visitors because of the multi-brand stores, hypermarts, fine dining restaurants, and offices because Greater Noida West (Noida Extension) has a lot of residential apartments.
5. Raheja Delhi Mall
The Delhi Mall project by Raheja Developers is a construction site on Patel Nagar Road, close to Kirti Nagar Metro Station in the heart of Delhi. The project's USP is its location; it is very well located right in the middle of a densely populated area and can see a lot of foot traffic. Another advantage of The Delhi Mall is its concept: it is a well-planned mall with proper zoning and shopping facilities.
6. Grand Central 114
Spaze Grand Central 114 in Gurgaon's Sector 114 is a one-of-a-kind shop/co-working office (SCO) concept. Grand Central 114 is a SCO project that provides a one-of-a-kind opportunity to own commercial land with common amenities and services. Connaught Place in Delhi, Sector 18 in Noida, Sector 17 in Chandigarh, and Sec 29 in Gurugram are just a few locations where you can find SCO Plots.
7. EON – Eye of Noida
EON, Eye of Noida, is an ideal blend of retail space and IT/ITES office space, providing your company with the address it deserves. This distinctive commercial project, by Fairfox Infra, has been unveiled in Noida's Sector 140A. It includes lockable premium office units and retail space. The elevated network of skywalks included in this commercial project allows for easy and barrier-free access for customers and office workers. The project is divided into two sections by a 42-meter-wide road that is surrounded on either side by upscale retail establishments.