In recent years, many projects have been initiated to uplift rural India. Especially projects aimed at improving access to quality education for children in rural areas. Recently the students of Lexicon MILE, under the Unnat Bharat Abhiyan project, visited five villages across India to identify developmental challenges in these areas and provide appropriate solutions for accelerating sustainable growth.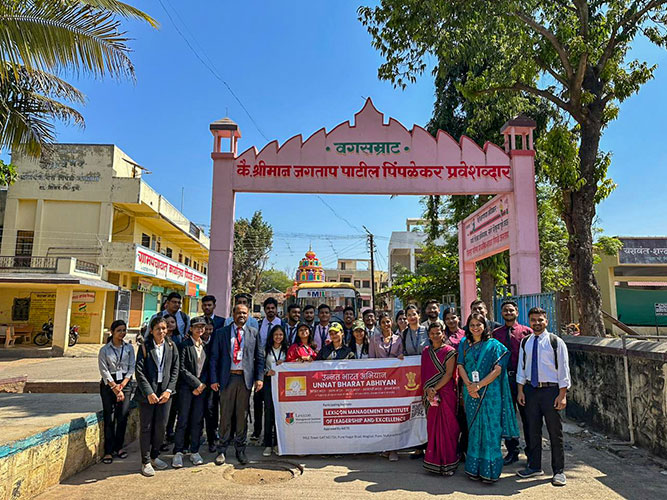 The Unnat Bharat Abhiyan is inspired by the vision of bringing about transformational changes in rural developmental processes by leveraging knowledge institutions to help build the architecture of an Inclusive India. It aims to provide rural India and regional agencies with access to the professional resources of the institutes of higher education, especially those that have acquired academic excellence in the field of science, engineering, technology, management, and much more.
Lexicon MILE has conducted several workshops and activities to help prepare the students for real-world challenges. "At Lexicon MILE we believe that while acquiring theoretical knowledge is important, nothing quite prepares students for the real- world challenges as practical lessons. This particular project was a great learning curve for the students, who had the opportunity experience present-day challenges in real time and devise sustainable solutions. This project helped enhance skills such as critical thinking and innovative solution designing, which are of great importance when you start your professional journey. Immersive learning experiences such as this, ensure our students are future-ready and equipped with the right approach and skills sets to become Day-Zero Professionals. The journey has surely had a positive impact on our students.", says Mr. Nasir Shaikh, Group CEO – The Lexicon Group of Institutes, MultiFit and EduCrack.
As a part of the Unnat Bharat Abhiyan project, the students of Lexicon MILE visited five villages- Vadhu Budruk, Lonikand, Wajewadi, Pimple Jagtap, and Karandi. "This was a unique learning experience for all of us. It helped us gain a deeper insight into the workings of grassroots administration and enhance our understanding of the developmental gaps, which aided us in offering sustainable solutions," said Ms. Palak Keshari, a student at Lexicon MILE, when sharing her experience of participating in the project. During their visit, they participated in administrative village meetings like Gram Sabha, Mahila Sabha, Bal Sabha and youth clubs, demonstrated videos of best practices in village development, visited the village school and interacted with teachers and students, organized cleanliness drives, and planted trees. Sharing his experience of the visit, Mr. Ram Khandelwal, another student participant from the Lexicon MILE, said, "Being a part of this project has greatly helped broaden my perspective of life in the remote areas of India. It has improved my understanding of the challenges faced by individuals and students in the area and the need for futuristic solutions with an emphasis on inclusivity. I am grateful for this fantastic opportunity that allows me to not only propel my professional development, but also fulfill my social responsibility."
Read More: How Does Venmo Appear On Bank Statements?
While there is still a lot of work to be done in the rural part of our country, Lexicon MILE is certainly a step ahead. They are steadily paving the way for a brighter future by encouraging and enabling young students to participate in grassroots projects, which not only help the country but also help them excel in their professional journey.